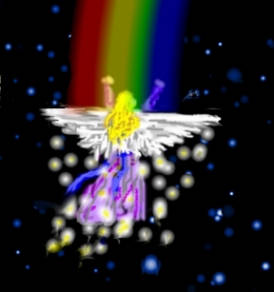 The Rainbow Angel Watches Over You
When You Are Feeling Sad And Blue.
She Sends You A Rainbow So That You Know
Someone Is Thinking Of You
And Loves You So.

Now Keep In Mind,
That The Rainbows She Sends
Are Not Of The Typical Kind.
You See, Rainbows Come In Many Different Hues.
The Answer Is That You Follow Her Clue.

Your Rainbow May Be Found
In The Laughter Of A Child,
A Hug From A Loved One,
An Email From A Friend,
A Smile From A Stranger,
A Nudge From Your Pet,
You Must Remember That
The Rainbows Are Countless
And They Do Surround You.

You Have Been Blessed By The Rainbow Angel.